About
For over 20 years we have been providing tiling services. In our activity, we put a special emphasis on the quality of workmanship, we work in a close, well-coordinated team, co-created by experienced tilers and other qualified construction workers, we trust each other. Each team member is characterized by the highest level of professionalism in his field. We have works of varying degrees of difficulty, ranging from simple standard solutions, to complex, unconventional architectural projects, which sometimes go far beyond the traditional laying of tiles, gres and terracotta. In the field of glazing services, there are no orders that we would be afraid of undertaking, we assume that virtually every, even the most fanciful concept is possible to implement with the appropriate workload and skills. By entrusting us with the renovation or finishing of the bathroom, and even the whole apartment, you can be sure that it will be carried out in a reliable and professional manner. Based on our many years of experience, we offer advice in the selection of specific materials and technological solutions, so that they are optimal in terms of prices and, above all, your expectations. More vividly, each of us as a tiler saw dozens of non-hundreds of different arrangements. When carrying out renovation of a bathroom or finishing a flat, we will not make elements that would be unergomeric or not very practical, unless we are asked to do so directly.
Our Services
By providing our services, we do not recognize improvisation, we always adhere closely to existing standards, system and product documentation, we use the best, proven building materials. In the case of finishing services, and especially in the laying of ceramic tiles, the devil, as rarely in any other field, is in the details. These details may seem insignificant at first, especially immediately after finishing the work, when the apartment shines with freshness. It is not an art, however, to provide tiling services or to perform drywall systems with a total disregard for the principles of construction and health and safety, starting from the assumption that "it is better to know" than the staff of specialists editing the specifications. Often such "smart" improvisations, implemented by "professionals" who appeared on the construction site a week ago, despite the fact that they save time and money in a short time, in the long run give rise to very unpleasant consequences. In extreme cases, it happened that we were ordered to renovate the bathrooms, which had already been "finished" a few weeks earlier. And even if not, with time, however, the hidden defects, which leaving it became the norm on the market, let us know: the plates leave the ground, cracks appear on buildings and ceilings, after installing lighting, it turns out that the walls are not as equal to what it originally thought, which is particularly annoying when we are somewhat "forced" to use the premises on a daily basis.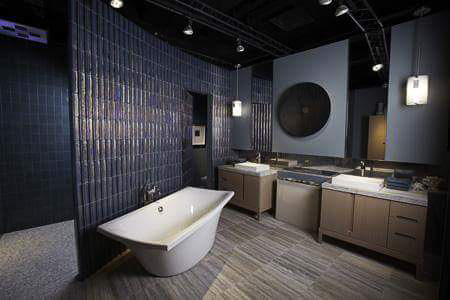 Quality
On our part, we offer a huge quality difference, which accompanies our clients years after completing the work. First of all, we do repairs and adaptations of bathrooms, as part of a comprehensive service we also provide other jobs of a lower degree of difficulty: assembly of structures in the drywall system, painting and plastering. Before the commencement of works, we estimate their cost and the estimated cost of the material very carefully based on the pricelist published on the website, so that you can be clear about the scale of necessary expenses. While working on a given project, we put a whole heart into it, because we believe that the buyer will enjoy the given interior for the next dozen or even several dozen years. When reviewing photos from the implementation, I suggest paying attention to the symmetry of the joints (they have the same width everywhere and come perfectly at right angles), the perfect planarity of the surface, the accuracy of falls (linear outflows), the accuracy of external corners (so-called double-sided ), on the accuracy of making silicone joints. We arrange all varieties of glaze, gres and terracotta, including prefabricated natural stone. We cordially invite you to familiarize yourself with our offer.